ATTENTION: Nursing Students ...
HESI RN Exit Exam
With 900 Or More
"
I'll show you the exact steps and specific directions to help you be successful with your exam—and you don't have to be a brilliant, straight A student to do it...

Dear Friend,


Are you feeling nervous about the HESI Exit Exam?
Are you horrified by not knowing what is going to be on it?
Did you already fail the HESI Test once or more?
Do you need an Exit score of 900 or higher?
Are you looking for HESI exam preparation materials that are actually USEFUL?
If your answer is yes to any of the questions above, please give me 5 minutes to explain to you the essentials of the HESI Exit Exam, and what methods you should be using to prepare in order to successfully pass your exam.
As you probably know, the HESI Exit Exam measures your readiness for the NCLEX examination. This is because nursing schools, in general, want their students to pass their NCLEX exam at once.
Schools that use the HESI Exit trust on HESI (and Elsevier, the publisher) to make sure that students who pass this test will definitely pass the NCLEX exam.
As a result, many students find that ...
The HESI Exit Exam is
much harder than the NCLEX Exam!
You are probably aware (or have been told) that the HESI exam is a very reliable predictor of NCLEX success.
And, as such, many schools use the HESI exams to see if their students are ready (or perhaps overly ready) to succeed on the NCLEX.
In fact, some schools only allow students that passed the HESI Exit to take the NCLEX, and they receive an artificially inflated NCLEX pass rate by doing so. This in turn will attract new students to the school.
According to state law, nursing programs that have above 87% NCLEX first time tester pass rates will receive more money from the state and will, most likely, attract more investors.
However, people forget what happens to the students who completed their nursing program, but were not allowed to take the NCLEX Exam because they did not pass the HESI Exit Exam...
Some schools are literally
abandoning students who
don't pass the HESI Exit Exam!
In most schools, these students are left with humiliation, lower self esteem, remediation costs and perhaps even another year in study costs.
In some schools, students are literally kicked out of their nursing program because they are "not expected" to pass the NCLEX.
Although you can argue about the ethics of this practice, since you are reading this letter, you are probably well aware of this rule and want to make sure you do not end up in the "no pass" category.
When I personally had to study for the HESI exam, I found many contradicting stories both online and in real life.
And, to be honest, I was somewhat upset that my nursing school wanted me to pass the HESI exam, even though I had SUCCESSFULLY completed their entire academic program. They essentially denied me the opportunity to graduate unless I passed the HESI Exit Exam.
It was difficult for me to have spent so long working towards graduation, only to be told that:
"Ultimately, It Comes Down To
One Exam"
As you can understand, I studied very hard for my HESI RN Exit Exam.
I used the HESI Study Book, with case studies, directly from Evolve, Elsevier. I used the Saunders Comprehensive Review Book, NCLEX Review 3500 and the Hurst Review Online.
I believed this would make sure that I passed the HESI Exit Exam. Like you, I had to pass the HESI in order to take the NCLEX. I was advised to:
"Make 100% sure
YOU pass Your HESI Exit Exam!"
After weeks of HESI Exam studying, the HESI Exit test day finally arrived.
I clearly remember sitting behind the school computer, and seeing a window that looked similar to this: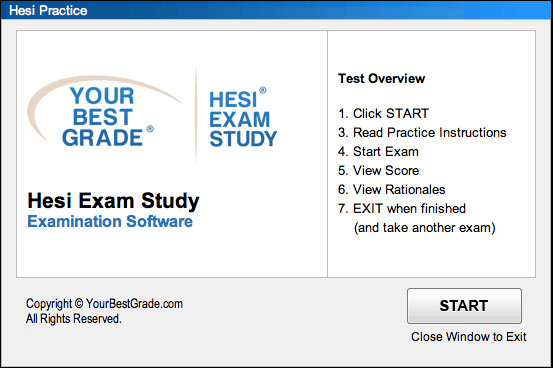 I entered my Student ID, the HESI Exam Access Codes, and pressed Continue.
I was SHOCKED
by the real HESI Exit Exam.
I am dead serious. No kidding. Nursing school had taught me Saunders, Saxon and Mosby questions, but HESI questions are like no other questions I had seen. The HESI requires so much more critical thinking!
I don't want to scare you and put more horror stories out there (as there are so many already). But, in my opinion, these questions definitely explained why around 60% of students in my Nursing Class did not pass. Yes, we'd done review material. Yes, we'd done Saunders and stuff like that.
To be honest, I thought the HESI Exit Exam was VERY difficult (I know some people say it's easy, so maybe I'm crazy). I am a good test taker and I always felt quite sure about my answers when taking tests.
However, on the HESI Exit Exam, for probably 10 to 15% of the questions, I was VERY unsure about the answer. On another 25% I was somewhat unsure. I didn't know many answers from studying my books and I had to rely heavily on vague notions and test-taking strategies.
Needless to say …
I completely FAILED my first Exit Exam.
I was afraid I would never get the chance to take the NCLEX exam because of my HESI score.
I was afraid that after spending all my time, money, and hard work on my nursing program, I would be denied the opportunity to fulfill my dream of being a nurse.
Fortunately - because 60% of my class had failed the first exam - I was given a second chance.
However, I knew I had to prepare differently this time around.
On My Second Attempt ...
I used a DIFFERENT technique
to study for the HESI Exam.
I don't want to brag, as it's not how I was raised. But you can't imagine my joy and pride when I heard that I had passed the HESI Exit Exam with a 1046 score! There are SO MANY people saying they failed or got JUST above the cut-off, I went into the HESI Exam thinking I might get a 920 MAX (we needed 900 to pass).
This was definitely a scary feeling!
However, as you should realize by now: there is some hope!
I only missed 6% of the questions (!)
by knowing what to expect, using
improved critical thinking skills and
good test-taking strategies.
I later found out that only people who passed the exam had congruently and thoroughly used my study technique. Some people who failed the HESI Exam also used this technique, but they did NOT place as much attention and focus on my technique as the people who did pass the Exam.
I believe this technique can help you finish your nursing studies.
Your first HESI Exam might be in a couple of months, or right around the corner. Perhaps you already took the HESI Exit Exam, and you have to take it again. Whatever situation you find yourself in, I promise I won't let you down.
You can score higher
than 900 on your HESI Exit!
If you still have (or if you are still allowed) to take the test, and you are desperate for GOOD objective advice on the HESI Exam, then you should know:
HESI requires a lot of critical thinking so be ready to put serious thought into each question.
And I mean really focus on critical thinking, because, essentially, that's all the test is!
It's 160 questions of intense critical thinking! You know how Saunders, Saxon and Mosby questions have all these methods for eliminating answers? Not for the HESI!
For the average student, on the majority of the questions, there will be at least 3 answers that look great, and none of the simple answer eliminating strategies will work.
When it comes down to the HESI Exit, my advice and technique is simple.
Be Ready For Critical Thinking!
"Practice, Practice, Practice!!!"
Knowing what kind of questions you will encounter and face on your HESI RN Exit Exam is your best preparation for actually passing the exam.
For example, buying the HESI Practice Test from Elsevier in the bookstore or on their website will help, but the number of questions is limited, and you likely have it already.
I did the Kaplan Qbank, the Comprehensive Exam from the HESI NCLEX Review book, Hurst Review Online, and some questions from the Saunders book.
This was definitely useful, as, back then, no websites were available that focused solely on helping students succeed on the HESI.
I also did NCLEX 3500 and thought it was a joke. Don't waste your time.
After a while, I stopped doing questions because I understood the test taking strategies well and was getting the same score no matter how much more I studied.
You see, a lot of my friends who DIDN'T pass the HESI Exam read Saunders. However, they didn't do the questions!
You have to make the questions!!!
But, in all honesty, most importantly you should ...
Practice With The Exact
Kind Of Questions You Will
Encounter On Your Exam
The HESI Exam questions are unlike many of the questions you've encountered before! This includes the Kaplan and Saunders questions. YES, they are useful. NO, they are not the same as HESI Exit Exam Questions.
Being able to see (and, especially, to understand the rationale for) 50, 100 or even 150 HESI Exam practice questions can easily up your score by a hundred, if not more.
If you've already taken the HESI Exit before, you probably were allowed to view your answers and see the questions you failed. And you probably looked at the rationales of each question missed.
You probably remember the difficult questions you faced, as well as the correct rationales, and thereby you (hopefully) learned from your mistakes.
This process is actually the best preparation for the actual exam!
Knowing, and being able to practice, with the exact type of questions you will face on your exam will make you realize how to study effectively for the exam. It will make you realize where to focus your attention and what kind of questions you can expect on the actual test day.
You can enter your HESI Exit Exam
with confidence on testing day!
In my case, our school required us to pass the HESI Exit Exam with a 900 in order to graduate. Fellow students who failed the test had to take 5 weeks of remediation classes... Taught by a not HESI certified instructor... As you can understand, it did not help the students at all. Most of them also failed the second, even the third time around.
Our school made us buy the HESI books. They simply handed them over to us and said "Here, read this...". Guess what? Not sufficient!
We were told to do 200-400 questions a day from the NCLEX 3500. I did NCLEX 3500 every day and thought it was a JOKE.
Guess what? The real HESI Exam questions are totally opposite!
I Wasted My Time
Studying The Wrong Things!
What many friends didn't realize is that you HAVE to practice with SIMILAR HESI Exam questions in order to UNDERSTAND what kind of exam you are dealing with. You need to practice with real questions in order to see if you are actually adequately prepared.
I paid 100 dollars for the HESI NCLEX Review and Saunders books.
I paid 200 dollars for the Kaplan Qbank.
I paid over 400 dollars for Hurst Review.
Then there's remediation, and of course all the "normal" study books and school fees!
I Wasted My Money!
I paid almost 1,000 dollars in study materials for the HESI Exit Exam and was horrified when I found that many materials helped me NOTHING at all during the actual Exit Exam!
I was shocked.
But I was determined that I would not be deterred by this exit test...
As you know by now, I went from failing my first Exit (together with 60% of my class) to passing with a top 1% score of 1046.
After my success, I started helping my friends so they would pass too. Because my help worked so well, and because I love helping others succeed, I eventually decided to set up my own program and become a true "HESI expert"...
In order to help YOU succeed - in terms of preparation - it should be no surprise that ...
I can guarantee you that the BEST way
to practice for your Exit Exam
is by using similar HESI questions.
Because of my frustration with the HESI Exit Exam, I have set up a member-only website where you can get access to my custom made database of HESI RN Exit Exam practice questions.
I assigned a team of experienced writers, MSN nurse educators who have all extensively written exam questions for major nursing publications, to create the best and most up-to-date HESI exam practice questions possible.
Yes, these writers are professional and trust me on that they know how to create some of the best HESI exam practice questions available.
With their help, each single question is prepared so that you can practice and learn from it via extensive rationales.
It doesn't matter if it's going to be your first or fourth time... All these questions will perfectly prepare you for THIS year's 2018 and NEXT year's 2019 HESI RN Exit Exam!
As a bonus, I have included a HESI Exam Review Study Guide I wrote myself which gives straight to the point advice on how to study for and pass the HESI Exit Exam. I also give you my preferred books to study for all HESI question topics and some other valuable resources I used to practice for the HESI Exit Exam.
Moreover, I have set up a private, exclusive forum, only for members of HESI Exam Study Insider. On this forum, I will answer ANY question you might still have about the HESI Exit Exam after going through all my training. You can also privately communicate with current HESI Exam students and previous HESI test takers who know EXACTLY what you can expect on your exam.
Yes, I do charge a fee to get access to the Members Area. However, I promise this is NOTHING compared to the cost of your other study materials.
Plus, in contrast to some of your study books, this WILL be extremely valuable for your studies.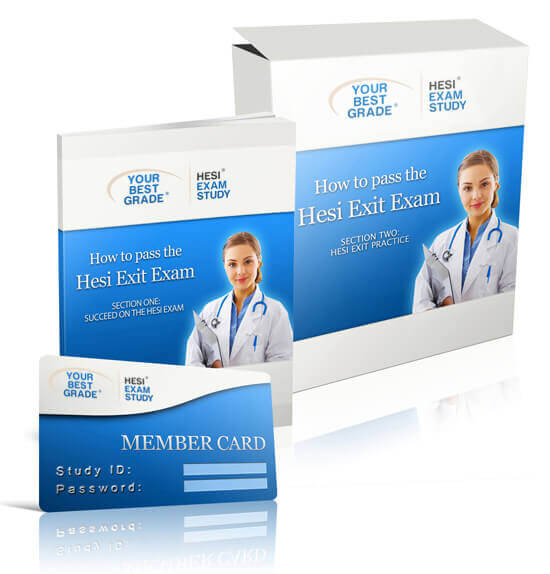 "Hi Claire,

I just wanted to give you a shout and thank you so much for what your HESI Exam Study Program has done for me. When I started to prepare for the exit exam, I had no clue where to begin. My nursing studies had obviously prepared me up to a certain degree but I had almost no instructions on how to prepare for my upcoming exam!

Your program has not only helped me to study and practice for the HESI Exit Exam, I passed it the first time around with a 972 score! I can hardly believe it myself but I've finished my nursing studies and I am proud to be an official RN!
I would tell anyone who needs to take the HESI Exit Exam to practice using your website. I believe it's the best HESI preparation."
Elizabeth B. - Santa Monica, CA
Become An Insider Today!
Start practicing with HESI Exit prep questions today! Get your HESI Exam Study help and enter your HESI Exit with confidence on testing day.
I am so confident that practicing with my private database of HESI Exit Exam practice questions will help you pass your exam, I insist that you use the Member Area entirely at my own risk.

So go ahead and order your access pass today. Visit the private Insider Member Area. Read it, use it, and profit from it. If you practice with the questions, study with my HESI Exam Review Guide, and somehow fail to recoup your small investment in the form of the result you want - just send one email to sales@yourbestgrade.com, and you get an immediate 100% refund of your purchase price!
Here's how the full refund guarantee works:
If you actively use the program and it's material, yet fail your HESI Exit Exam (for up to 6 months after your initial purchase) I'll give you back every penny you paid.
I couldn't be any fairer than that.
I'm not scared to make this guarantee because I know from experience that this exam practice works AND that the practice questions will help YOU. I have NO doubt.
You can go through all of the materials and have plenty of time to use this program. But if you fail the HESI, just tell me and every cent will be refunded if you'd like a refund.
Note: Actively using the program doesn't mean you have to take all practice exams, however, it does mean you have to take more than just 1 or 2 practice tests. You actually have to spend time and use the practice because my program only works if you do the work!
So if you're serious about preparing for the HESI Exit Exam, then I really look forward to welcoming you as a HESI Insider and seeing you in the members area :-)!
If you don't pass your exam, if it isn't what you thought it was, if the practice doesn't work for you, you have nothing to worry about because you can get every dime of your money back under our full success guarantee.
In addition, if you sign up and just don't like what you see, there's a 7 days no strings attached refund guarantee as well.
That is on top of our 6 months full success guarantee (pass the HESI Exit or your money back).
As a result, if you're serious about passing the HESI, you have nothing to lose and everything to gain
As an Insider, you will ...
- Learn how to understand what HESI questions are really asking.

- Learn how to choose between two answers that both look "right", stop second guessing yourself and picking the wrong answers.

- Learn how to deal with test anxiety, stop feeling frustrated and get your nerves under control during the actual HESI Exam.

- Know exactly what you need to focus on. Learn how to focus on the most important things while making sure you're not forgetting anything essential.

- Know once and for all what to expect on your HESI. Stop feeling overwhelmed and start feeling confident by following a proven game plan to improve, succeed and pass with 900 or more.




Whatever you do, realize that you NEED to be ready for critical thinking! You need to practice with questions that were designed to prepare you for the HESI Exit.
This website can be your shortcut for that. You can start to seriously prepare for your HESI Exit Exam TODAY, using our private database of HESI practice questions.
Practicing for your exam with similar questions is something I believe in and I know it can work for you too.
For Less Than What You Would
Normally Pay For Coffee
You Can Now Start Prepping
To Pass The HESI Exit
As I calculated above, I paid almost 1,000 dollars in study materials to pass the HESI.
And that's on top of the fortune I already spent on nursing school education in general.
Even worse, after I failed the HESI, I had to pay hundreds extra in forced remediation classes. Classes that didn't help.
Can you imagine how much money I would have lost if I would have been kicked out of nursing school for failing the HESI... again?
You're probably wondering how much you need to pay to join my HESI Exam Study Insider Program.
So let me ask you... How much would you be willing to invest to pass the HESI Exit Exam?
For me, as I was only allowed to take the HESI 3 times, I know the answer was EVERYTHING.
But don't worry.
As I've been through the experience myself, I will NOT charge you a fortune. Not even close to that.
You spent tens of thousands on your nursing education.
You've spent hundreds on books, some of which probably made you wonder why.
If you get a private tutor, it WILL cost you a fortune. The real problem is he/she might not even be a HESI Exam expert, much less knows how to properly prepare you for the exam. Results can take weeks if not months assuming you can afford to pay for every hour of the private tutoring. My job is to save you from resorting to this option with much quicker results.
If you're taking NCLEX review classes, know that the HESI and NCLEX exams are not the same, and although passing the HESI practically guarantees you'll pass the NCLEX, this is NOT the other way around!
Although you might feel good succeeding on the NCLEX practice tests you get, this doesn't mean you will pass the HESI. At best, the NCLEX prep questions will help you do OK on your HESI. At worse, you will fail your HESI and need a resit. Or more remediation. And all that will cost you a lot of money.
The kicker is this… doing nothing costs you even more. If you even dare put a price on what failing the test is costing you. The extra stress and anxiety will steal from your exam results too. If you want happiness and peace of mind, then you know it's not worth it. You don't have to suffer.
The good news is…
…you can easily prevent all this from happening to you with just one decision.
And the even better news is you won't be paying anything close to the $1,000 I had to pay to pass my HESI.
You don't need to invest $1,000, $500, or even $300 to join my HESI Exam Study Insider Program.
When I was stuck in the lowest point of my life I struggled to pass the HESI and find an answer to my problems. That's why my first priority is to help nursing students who are just like me a long time ago.
Therefore, I am now offering exclusive Lifelong Access to the Member Area at the incredibly low price of $297 $197.
If you join today, you can save an additional 50% by choosing the 12 Month Membership and making one payment of just $97.
And as it is my mission to make this program affordable and accessible to every nursing student, I've set up a special payment plan for those who cannot afford the program payment at once.
You can choose to pay in easy installments of $37. If you drink coffee, that's less than purchasing a small cup of coffee each day for one month.
I hope to welcome you on the other side and help you pass your HESI Exit Exam!